By John Calder, Argonaut360 Correspondent
While attending the 9:45pm showing on Friday January 28th of the of the excellent film, "True Grit" at the AMC 1000 on Van Ness, I found myself in a very uncomfortable position. Standing at the 7th Floor concession area was a paramilitary geared male, fully decked out with a Glock handgun, pepper spray and other miscellaneous military and security gear. He leaned over a counter – texting into his phone. I assume he is the Security service.
He had no visible name, company affiliation, military insignia, just a paramilitary blue/gray jumpsuit and hobnail boots.
As an Air Force veteran, who worked on nuclear equipped Strategic Air Command bases in the 70's, I'm well aware of military training, the security police and the necessity to post the sign below  when weapon equipped security is protecting a secured area.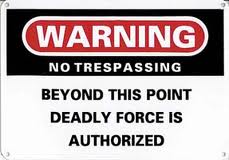 It means, "We have been given permission to shoot to kill in this area".
I saw no such sign at the AMC 1000 Theater on Van Ness street. Not on my ticket, not at the box office, no where I could find.
Now, frankly, I'm uncomfortable around guns, even cops having lunch in the same Diner as me, gives me the willies! You see, I have been shot at.
Shot at a lot!
I have been car jacked during the 89″ Quake World Series and shot at, been bike jacked passing Valencia Gardens and shot at, I had a Naval Yard Security Guard pull a gun on me over a parking spot. Even my own Dad shot at me once!
And I'm a middle class Caucasian, father of 3, who lives in Noe Valley!
I don't own guns, don't like guns and prefer not be around them. Ever.
The thing is about the "Rooster Cogburn wanna -be" at AMC;  I don't know him, don't know his background, his training, who he works for, his affiliations, or frankly the state of his mental health.
Now I'm saying I do not have total faith in anyone with a handgun. I respect the SFPD and think they do a wonderful job and are a highly trained and respected organization.
But even SFPD are shooting old guys in wheel chairs, the Bart Police are shooting unarmed hooligans. But with both these esteemed agencies, we can and have to assume they have a level of training and public accountability and oversight. But even these professional agencies make personnel mistakes.
Who is overseeing my "Rooster Cogburn wanna -be" at the AMC. Is he being tested for drugs on a regular basis? Has had a psychology review? Does he have a police record? Is he on methamphetamine's? Does he carry a Pot Club card?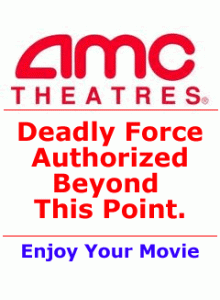 I know a bit about power, politics money and human nature.
I have what I call my "Two Rules of Power:"
Rule One: "Power is no good unless you use it"
Rule Two: "People who seek power should not be allowed to have it" Reason: See Rule Number One.
We all knew the half dim wit brother of an old girlfriend who wanted to be a Cop but never made it. He falls under these rules.
Now I suspect my "Rooster Cogburn wanna – be" falls in here too. Turns out a Security Guard earns a fine working wage and are typically un-armed. Turns out that by carrying a licensed firearm that can earn an additional$10-12 per hour on top of that. I suspect he is a Security Guard because he did not make the grade to be a Policeman.
But he can have a Glock in his pocket, in public and make lethal decisions when to use it. When is that OK in San Francisco?
It's not in the City I love, where my kids go to movies, where I assume they are safe.
Are they?
I shudder at the thought of a shoot out during a movie because someone stole popcorn!
I would like to hear AMC's position on this. I don't believe that parents taking kids to the movies should have to worry about the safety of their family in an AMC Theater.
John Calder
jcalder@well.com
UPDATE: As of 9:30am on Jan. 31, management at the Van Ness location had no comment about the 'Para-military Guy", neither confirming or denying. They did however admit to having armed guards on the premises.