Memo to the Editor
A Metaphor for America: Triple Crown Forebodings for Obama
From John B. Shanley
I just got back from the Belmont and what a spectacle it was. Over 100,000 people all seeking the same thing…and none of them finding it. It was a scene.
Pauly Walnuts of Sopranos fame was hanging out with the insiders private dick – Bo Dietel in the highroller area. Me I was hanging with an interesting crew myself, including a vice-president for the New York Stock Exchange, who knew nothing about the horses, but alot about buying cocktails.
For me there is not much worth learning that can't be picked up at the track. For there are many lessons a horseplayer learns over the years. Many the hard way.
Over the past two months, I have been to the track in three different countries – the USA, Ireland and Northern Ireland. The Irish have a great understanding and respect for the horses. I spent two days at Ireland's biggest jumping festival at Punchestown, where by happenstance, I picked three straight winners and ran into Bertie Ahern, who was in his last week as Prime Minister of Ireland. Now you don't meet too many Prime Ministers at Bay Meadows. And the Irish will look at you different after you pick three straight.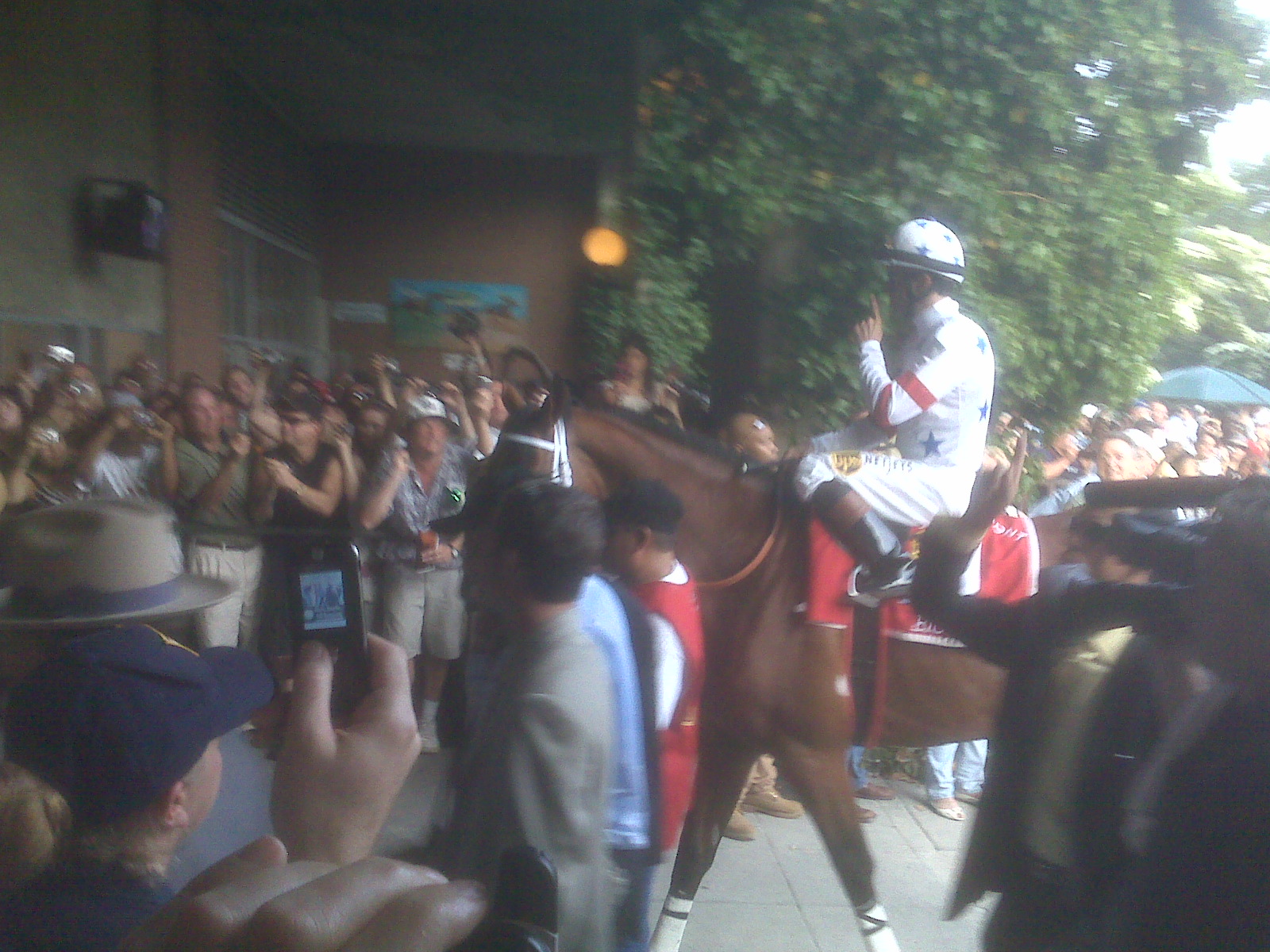 But an Irishman's luck rarely travels north well. My luck went south as I went north to catch racing action at Down Royal, in a lovely countryside setting outside Belfast in Northern Ireland. My buddy is an editor for the Daily Mirror, which sponsored the bank holiday race in early May.
I was in Belfast during that horrible spectacle that was the Preakness, in which the filly Eight Belles, who valiantly came in second to the monster that is Big Brown, was euthenized on the track. There is nothing worse than watching a large animal die. And it is why I have turned on American horseracing. Horses should only run on grass and at long distances, but that is another story.
What a metaphor for American, I told my friend. "Don't miss it. Hilary is done," I declared. "No. She can't be," he replied, for all of Ireland loves the Clinton's for their work in the Northern Ireland peace process.
"Yes. She is finished and all her supposed friends wil turn and run from her," I warned. "She is in no better shape than that filly they will now put down in the dirt. In America – one day your a king and the next you are done…like milk gone bad."
"So," my friend asked. "Do you think it will be Obama?"
"Let's watch the Belmont," I responded. "The Belmont will give us our answer."
Well, last Saturday, with over 100,000 New Yorkers in 90-plus degree heat we got our answer. Obama will fade in the strench…and to the shock and horror of many will fade as quick as he rose. And you can take that to PaddyPower or Ladbrokes.
Immediately following the Belmont stakes (and before the 12th race of the card), a retired NYPD cop, whom I befriended and worked up a nice little friendship with (horseplayers have a way of befriending each other) gave me what proved to be a helluva piece of information. He spent years in the NYPD organized crime unit and he knows a wise guy when he sees one.
"You see that pizzano over there,?" he asked in his thick New Yorker accent. I did. "He just put $20,000 on number 12 to win." While I did not have 20gs handy, me and the ex-cop put a little of our own on the 12 in the 12th. And while he was nowhere to be seen coming into the last turn, this 25,000 claimer came on from the outside like he was on a rocket and paid off a 11-1. It pays to listen.